Kana - Dortmunder Suppenküche
Kana - Dortmunder Suppenküche
Kana - Dortmunder Suppenküche
[ Mallinckrodtstr. 114 - 44145 Dortmund - Tel. 0231-839853 ]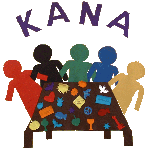 Kana Soupkitchen in Dortmund, Germany
Kana is a christian community of women and men who are concerned about the growing injustice and poverty in our society, especially about the plight of the homeless.
In 1991 we started to give out soup on the streets once a week. Two years later, in June 1993, we were able to open the Kana soup kitchen in the Dortmund "Nordstadt", the northern part of the inner city with high unemployment and much poverty. In 2001 we moved to a bigger venue, where we now serve meals five times a week to sometimes more than 300 guests.
The soup kitchen has become the centre of our life as a community. Here we gather for work, meetings, discussion, and worship. Over the years we have extended our activities - we also have a depot of sleeping bags and blankets for folks who are sleeping outside, we are initiating and joining actions for peace and justice causes, we are facilitating a meeting of soup kitchens and similar groups from the federal state of North-Rhine-Westphalia twice a year.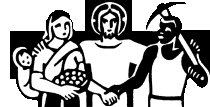 As a community we feel that we belong to a worldwide network of ecumenical communities concerned about peace, justice and the integrity of creation. The greatest influence on Kana comes from the Catholic Worker movement in the United States. Several of our founding members were part of the "Friends of the Catholic Worker in Germany", have lived at Worker houses and see Kana as their way to put into practise the ideas of Peter Maurin and Dorothy Day in our context. We have participated in and hosted the annual European Catholic Worker Gathering. Several members of the movement from around the world were speakers at our regular round-table discussions, meant for "clarification of thought" in Peter Maurin's program of social change.
Unlike most Catholic Worker Houses of Hospitality we are not a live-in community. When we were looking for an open but reliable structure we learned from the Iona and Corrymeela Communities in Scotland and Northern Ireland, whose work for peace and reconciliation has inspired us. Like them the members of Kana commit themselves for one year by promising to give part of their time and money to the community, share a common spirituality and work and pray for justice. These members form the core community, but there are many more people involved, such as about 70 volunteers helping in the soup kitchen and with other projects, and even more who support Kana by participating in our activities or through donations.
The guiding principle in our work in the soup kitchen is hospitality. We feel that our guests are at the heart of the Gospel, and our community statement starts: "We search for God, and we find him with the poor." That's why we try to make our soupkitchen a place where the poor are not only accepted, but welcome. They are our guests, whom we serve with human respect and warmth. We are no social workers, who want to educate or help professionally, but normal people sharing the bare necessities of life with those who are excluded from participating in them.
We also try to speak out publically for the poor, because we see the root causes of their destitution in the injust structures of our economic and state system. Over the years we have led several non-violent campaigns to protest injustices in our city and improve the plight of the poor and homeless here. Once a month we gather for a regular vigil: nowadays in front of the Deutsche Bank to protest against our injust financial system, in former years in front of the main train station to protest against the eviction of so called "marginalized groups" from public squares and buildings. Each year we do an action to commemorate October 17th, the "World Day to Overcome Extreme Poverty".
The wedding at Cana (Kana) was the occasion when Jesus started his public actions. For us, this feast became a symbol of God's reign of justice, where all gather around the same table and have part of the affluence which is expressed by the changing of water into wine. We're glad to know that many people in different parts of the world share the same vision. We ask you to keep us in your prayers.